NANCY DREW MYSTERIES by Carolyn Keene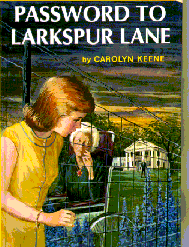 In the small fictitious town of River Heights, our heroine, Nancy Drew, could often be seen zipping through town in her blue roadster in hot pursuit of her latest suspect. Often she would be accompanied by her chums, George Fayne (a girl with an unusual name) and Bess Marvin. Her steady beau, Ned Nickerson, would also be involved in some of her mysteries. Follow Nancy and help her solve the mystery of "Password to Larkspur Lane", one in a series of over 100 titles.
THE HARDY BOYS by Franklin W. Dixon

The Hardy Boys, aka Joe and Frank, comb the streets of Bayport in search of their latest mystery. Along the way they get a little help from their Father, Benton Hardy, who is a Private Detective. Follow our crime busting duo as they prove that good can triumph over evil, and that justice will prevail. Check out "The Secret of the Caves" one of many books in the Hardy Boys series.
GOOSEBUMPS by R.L. Stine

Kids love to be scared and they love these Goosebumps books. The series of books include "Goosebumps", "Give Yourself Goosebumps", and "Goosebumps Series 2000", to name a few. These books appeal to girls and boys alike. Read "Cry of the Cat", a Goosebumps Series 2000 book...that is, if you're not AFRAID.